Stubborn Defense has Lions' Soccer Optimistic about District Tournament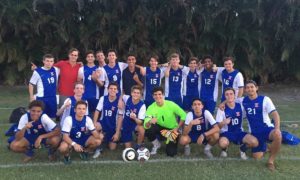 Varsity Boys' Soccer at The King's Academy resides in a district full of strong competition, but 'cautious optimism' is the feel around the Lions' program in the month of December. The 2016-17 Lions have proven to be a stubborn defensive unit. Through 10 games, the Lions have only allowed 13 goals, including 3 shut outs. The most impressive of the shut outs came as the Lions' defeated American Heritage for the first time in school history, 1-0 on November 10. First year head coach, Joby Slay, has continued to move the varsity soccer team past that huge win and on to another great win for the program. The victory this time came in a 2-1 thriller over Oxbridge Academy. The offense has been anchored by senior, Enzo Lerer who scored both of The King's Academy's goals in the Oxbridge victory. The defense has been anchored by goalkeeper, Caleb DeMarco, fresh off of a football conference championship as the team's kicker. Caleb has demonstrated a lot more than just feet as his leadership and stellar athleticism have made scoring on the Lions a rare occurrence.
A 7-3 record, a stout defense, and two of the better wins in program history have the Lions' eyeing the district tournament in the month of January. If their track record is any indication, the only teams giving in this winter will be the Lions' opponents.