TKA Students Memorize more than 330 Pi Digits for Pi Day
(West Palm Beach) – The King's Academy had a very fun Tuesday celebrating Pi Day, 3.14. The challenge for high school students, created by the Math National Honors Society at TKA, was to recite Pi, the infinite number. Students who recited more than 15 digits received a piece of pie. However, the top three students with the most digits memorized received a gift card. First place received a $50 VISA gift card. More than 50 students participated in the event and earned a free slice of pie, but only three students memorized the most to receive their gift cards.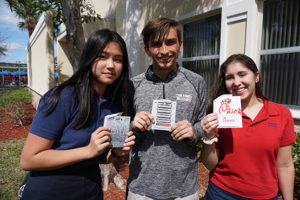 (from left to right in picture attached)
1st Shania Liu – 10th Grader (351 digits) $50 VISA Gift Card
2nd Graham Popadic – 11th Grader (336 digits) $20 Chipotle Gift Card
3rd Giselle De La Rua – 12th Grader (192 digits) $10 Chick-fil-A Gift Card
The King's Academy is a National Blue Ribbon, Christian school serving more than 1,400 students from preschool through 12th grade, and is accredited by AdvancEd, the Southern Association of Colleges and Schools, the Association of Christian Schools International, and the Florida Association of Christian Colleges and Schools. The King's Academy serves students and their families across Palm Beach County, Florida, at its campus at Belvedere Rd. and Sansbury's Way in West Palm Beach and its satellite preschool campuses in Boynton Beach, Greenacres, Loxahatchee/Wellington, Palm Beach Gardens, and Royal Palm Beach. More information about The King's Academy is available at www.TKA.net.